Adversity Articles
These are articles that are related to the topic of turning adversity into an advantage. The link will open a new window to the website where the article is found.
To return to this page (on most browsers) go to the "Powered by Adversity" tab at the top of the browser.
Paris Journal: A Tale Seen in the Mind's Eye, Told by the Body's
March 18, 1997
By ALAN RIDING

ARIS -- It was January 1996 and Jean-Dominique Bauby lay in Room 119 of the Naval Hospital at Berck-sur-Mer in northern Normandy, the victim of a stroke that had plunged him into a 20-day coma and left him paralyzed from head to foot. Only his left eye was open. He was asked to blink once if he understood what he was being told.
He blinked.
With that, his condition was diagnosed as locked-in syndrome, a result of a rare kind of stroke to the brain stem, which links the brain to the body. It meant that his mental faculties were intact, but locked inside a helpless body that had little chance of recovering movement. His only means of communicating was by blinking.
Before being struck down, Bauby had been the highly successful editor-in-chief of Elle magazine, known to friends as a bon vivant with a wicked sense of humor. Now, lying in bed or strapped to a wheelchair, watching the world in a wry one-eyed way, he grew determined to record his observations as a sort of testimony of life inside his cocoon. ...
The Road to Resilience

How do people deal with difficult events that change their lives? The death of a loved one, loss of a job, serious illness, terrorist attacks and other traumatic events: these are all examples of very challenging life experiences. Many people react to such circumstances with a flood of strong emotions and a sense of uncertainty.
Yet people generally adapt well over time to life-changing situations and stressful conditions. What enables them to do so? It involves resilience, an ongoing process that requires time and effort and engages people in taking a number of steps. ...
Joni Eareckson Tada Encourages Optimism in Face of Trials
By Stephanie Samuel | Christian Post Reporter
Joni Eareckson Tada, who has resumed travel since her cancer went into remission, sympathized with struggling Americans and wounded soldiers, offering them words of encouragement during her Thursday speech at the National Day of Prayer.
Tada, who was diagnosed with breast cancer in June 2010, was on stage Thursday addressing the depressed outlook that is affecting many Americans.
"Americans are nervous; Americans are restless; and what troubles me the most is that Americans are uncharacteristically pessimistic," she said.
Tada, a quadriplegic who served as honorary chairman for this year's National Day of Prayer, credited the uncharacteristic change in Americans to a number of things including "the national debt, rising gas prices, partisanship, political partisanship, in fact, right here in D.C.
"And boy, it doesn't help when you sit at home and watch videos of the tsunami (in Japan) and the tornadoes down South."
All those things, she believes, have left many overwhelmed and decidedly "throwing in the towel." ...
"To Thine Own Self Be True"
quote by LanThi ; article by Dr. Irene (February 2, 2000)
Most of us are familiar with the above quote taking from Shakespeare's Hamlet, but how many of us know this verse: "And it must follow, as the night the day, Thou can not then be false to any man." Unless we can be true to ourselves first, we cannot be true to others.

To thine own self be true…..how profound. How many of us have a hard time being true to ourselves? Those of us that gave our life to another at the cost of losing who we are in the process will have a hard time being true to ourselves. Allowing someone else to define who we are, we lose our ability to discover and grow inwardly. We no longer are able to discern a truth from a lie. For many of us, we have accepted lies for so long, that finding out what is true takes time. Having done this very thing, I know how difficult the journey to self-discovery can be....
Can a Devastating Shark Attack Really Lead to a Better Life?
Post-traumatic growth, family, and spirituality in the Soul Surfer story
Tonight, a friend and I took our tween girls to see the movie SoulSurfer, about Bethany Hamilton, a teenage Hawaiian girl whose left arm was bitten off by a 40-foot tiger shark on Halloween. The title comes from a term used to describe surfers who surf because it is their passion, not just because of the competitions. The movie was an inspirational story of a brave young woman who, with determination, family support, and religious faith, was able to return to surfing, eventually winning a world championship and becoming a professional surfer. Bethany's story was truly inspirational and is a fine example of what psychologists call post-traumatic growth—the ability to derive positive benefits from adversity. Although traumatic events, such as a shark bite, are painful and difficult, going through this experience may induce psychological maturity and a new appreciation of life. ...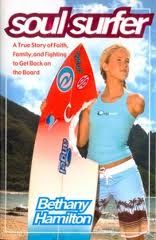 Bethany Hamilton with her shark-bitten surfboard
The Wronged Man
Twenty-two years after being sent to prison for an unspeakable crime he did not commit, Calvin Willis walked out a free man, the 138th American exonerated by DNA evidence. He has won his freedom, yes, but how does a falsely accused man reclaim his life?
By Andrew Corsello | Photograph by Mary Ellen Mark
November 2007, GQ Magazine
As we celebrate our fiftieth anniversary, we look back at some of the most powerful journalism the magazine has published. In 2004, Andrew Corsello gave us this story of Calvin Willis, a man who spent twenty-two years in prison for a rape he did not commit. DNA evidence cleared him, but it was the work of a crusading stranger, Janet Gregory, that set him free.
Three little girls sleep in a house. They're alone. It's a strange house, long like a shoe-box and only one room wide, tin-roofed, set on cinder blocks, removed from the street by a long steep rise. The house has no toys, no television, so the girls have spent the night playing dress-up—...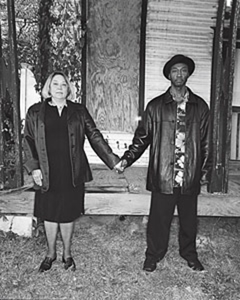 Calvin Willis with Janet Gregory
Despite Illness, Author Pushed to the Finish Line
Laura Hillenbrand battled chronic fatigue to write the story of Seabiscuit, the underdog racehorse who became a legend.
by Jennifer Frey - Washington Post Staff Writer
March 27, 2001
The little room on the second floor of the Glover Park row house is organized to perfection, though this is something that an outsider would not understand. The water cooler, the glasses, the bowls and spoons -- all sit only a small lift of the wrist away. Cereal boxes line the top of the desk -- Weetabix, Total, Fiber One -- and milk is stored in a mini-refrigerator that doubles as a table for a fax machine and a half-dozen bottles of pills. Scrapbooks are piled on the floor, within easy reach. Papers clutter the desk.
For nearly four years, Laura Hillenbrand sat in this room for up to eight hours a day and carefully, painstakingly, re-created the story of a Depression-era racehorse and the three eccentric men who made up his world. She almost never went out. Some days, she didn't even go downstairs.
Instead she pored over old racing programs and newspaper clippings...
A Sudden Illness -- How My Life Changed
by Laura Hillenbrand (author of bestseller "Seabiscuit")
We were in Linc's car, an aging yellow Mercedes sedan, big and steady, with slippery blond seats and a deep, strumming idle. Lincoln called it Dr. Diesel. It was a Sunday night, March 22, 1987, nine-thirty. Rural Ohio was a smooth continuity of silence and darkness, except for a faintly golden seam where land met sky ahead, promising light and people and sound just beyond the tree line.
We were on our way back to Kenyon College after spring break. Linc, my best friend, was driving, his arm easy over the wheel. My boyfriend, Borden, sat behind him. I rode shotgun, a rose from Borden on my lap. Slung over my arm was a 1940s taffeta ball gown I had bought for $20 at a thrift shop. I was 19.
The conversation had dropped off. I was making plans for the dress and for my coming junior year abroad at the University of Edinburgh. My eyes strayed along the right shoulder of the road: a white mailbox, the timid glint of an abandoned pick-up's tail-light. The pavement racing under the car was gunmetal gray. We were doing 50 mph or so. A balled-up bag from a drive-through burger joint bumped against my ankle.
A deer...
The Power of Incremental Change Over Time
I have always been fascinated by the power of incremental change over time. Most people underestimate this. They think they have to take massive action to achieve anything significant.
I am not opposed to massive action. I have used it myself to achieve certain results. But it causes most people give up before they ever start. They just don't think they can make the investment.
For example: ...